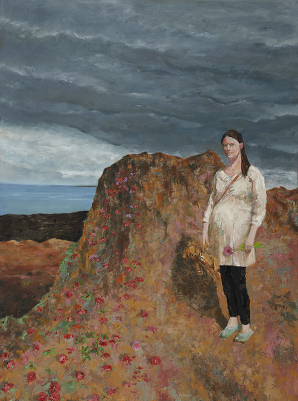 Welcome to "The Art of Storytelling"
This is a storytelling website created for a series of very unique paintings. These narrative paintings are all set in the beautiful city of Edinburgh, Scotland and, thanks to the magic of modern technology, each one can be "brought to life" by scanning it with your smartphone. Download the free augmented reality app Layar and scan the artwork to watch the figures move and dance to the music. You can read other people's stories about the characters in the paintings here or you can very easily add your own comments and interpretations for others to enjoy.
At the moment I've completed two of these innovative paintings, which are currently being displayed in the stunning venue of the Usher Hall this summer during the world famous Edinburgh Festival. I'm currently working on more paintings for this series along with a number of preparatory sketches for an exhibition opening spring of 2014. Join my Facebook page or my mailing list keep up-to-date on my forthcoming exhibition and artwork progress. Please contact me at if you would like to purchase any artwork or to enquire about commissions.
Happy Storytelling!
The concept
Read about the concept behind the paintings, the stories, and website.
The paintings
View the interactive paintings and the preparatory sketches in the gallery.
Write your story
Find out how you can write your own story or stories about the paintings.